My tree may not look very impressive to you, but to me it is beautiful. First, I bought a roll of newsprint, I got mine online from
Dick Blick
.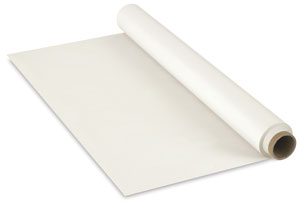 Next, I searched my supplies for different (fall) color paper. I am a big proponent of using what you have on hand. I made these leaves in different sizes so four fit to a page and printed them out on my colored paper. I used gold, tan, brown, orange, peach, but you could go with whatever you have on hand.
After cutting them out, (I found the most success with small, embroidery scissors) I used
Krylon Easy-Tack Repositionable
Spray Adhesive,

again from
Dick Blick
. This made all the leaves sticky. This is a very messy step, so make sure you have your surfaces well-covered and you do this in a well-ventilated area.
I taped my newsprint to the wall and drew a tree. I had a 10-year-old tell me the secret to drawing trees was to keep making V's, so I used his method. After it was drawn I got out my brown paint and put some paint on the trunk. Next I put the leaves on the tree, started it off with a couple of things I was thankful for and invited (okay, coerced) my family to write on some leaves. My sister and I stayed with it until we got all the leaves filled in.